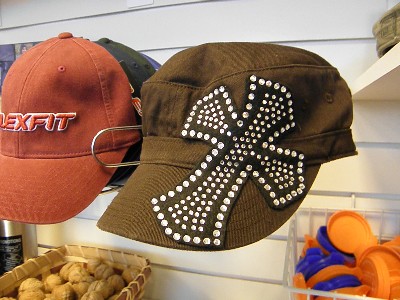 How to Maintain you Rhinestone Apparel Jeans, Tanks and Tops or Shirts with rhinestone embellishments are Trendy and part of our everyday wear. With a little care and knowledge you can enjoy and wear them for a long time. After 6 years of rhinestone work, we have developed a few tricks and fixes that may come in handy. These guidelines are for clothing and accessory items that have flat back, rim set, and jeweled pieces where an adhesive has been used to attach them to the fabric. Not entirely specific to Jeans and tops you may find this helpful for many finer garments.
Most labels recommend:
Wash garments inside out, with zippers zipped and buttons or snaps closed. Use gentle cycle and cold water. Warm water for whites but never hot. Use a mild detergent and very little of it. Tumble dry low. This method works, however it will cause tiny cracks in the stones which makes the stones dull lose their twinkle. More often than not after a few washings you will have missing or loose stones as well.
Preferred method:
Wash item by hand inside out, in the sink. Use warm not hot water. A very little mild detergent. Do not soak embellished clothing in water for more than a few minutes. Use the bathtub or the shower it makes it easier to rinse. Do not twist or wring the embellished garment. After you rinse it, transfer the rinsed item to the empty washing machine. Use the GENTLE CYCLE.SPIN ONLY setting. For heavy clothing such as jeans you can spin out the garment twice. This removes the excess water without twisting or wringing the fabric which stresses the stones. Item is still inside out. Hang it to air dry. Do not hang outside if it's hot. Heat is not adhesives friend. Direct sunlight and heat should be avoided. After the item has dried you may place in the dryer on low for 5 minutes (no more) to fluff out the fabric so it doesn't have that stiff feel from air dry. For light weight fabrics put onside of a pillow case and fluff for 3-5 minutes. It's best to iron t-shirts and tops but I'll explain that next.
Hand Washing:
Washing by hand is the only way to wash embellished light weight tops or shirts. The washing machine is just too hard on the fabric and stones. Some jeans you can get away with washing using the gentle cycle or hand wash cycle. I would advise doing so if the fabric is very soiled. This leads to spot treating any stains prior to washing. If your garment has a stain treat the stain as you normally do, but rinse all the stain treatment out before hand washing. You don't want a stain remover near the adhesive or the stones. Use oxy clean and a toothbrush for tuff stains and rinse out well before you wash the entire garment. If it's a t-shirt or top the requires a bleach solution to remove a stain...be certain bleach does not seep or bleed into the fabric around your stones rinse with water away from the embellishments.
Ironing embelished clothing:
NEVER LET THE IRON COMES IN DIRECT CONTACT WITH STONES OR THE FABRIC AROUND THEM. You will need to use a piece of cotton fabric that you place between the iron and the garment. Move the cotton cloth with the iron. Cotton t-shirt works great. Keep you iron on med heat and do not let the fabric or the stones get to hot. It will melt the adhesive and the stone will reposition itself and leave a not fixable glue smear. Its best to iron the fabric as directed, but do it a section at a time. You will iron the front and before moving the fabric to iron the next area, let it sit for 5 minutes and cool down. This way you can be assured the glue if it did start to melt won't run or smear when the item is moved. If your embellishments are large do not put the iron on them even with the cotton fabric. You will go around them with the iron.
Keep in mind that crystal rhinestones and jewels are glass. They can break or crack.
It's best not to take off a jeweled top and toss it across the tile floor. The bigger the stone the more likely to break or be knocked off.
When buying jeans with rhinestones look for styles that use small stones on the backside or other stress points on the jeans. The hem line is not a stress point the tush and thighs are.